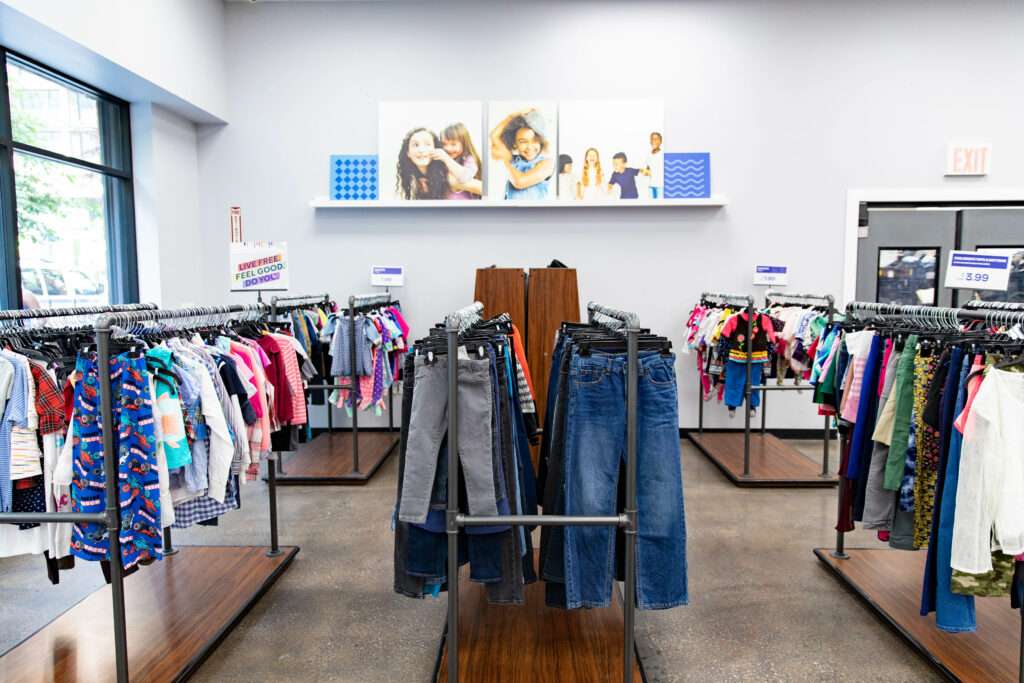 Goodwill Industries® of Greater NY and Northern NJ will open up to five retail locations in the NY/ NJ region to expand its retail operations to fund its mission programs to grow and deepen the impact on people served
New York City, NY – June 13, 2022 – Goodwill Industries® of Greater New York and Northern New Jersey, Inc. (Goodwill NYNJ) is a nonprofit organization that will open up to five retail locations, including Goodwill Stores and Attended Donation Centers, in Northern NJ, Long Island and Westchester county NY. Goodwill NYNJ is investing on its retail operations to expand funding for its mission programs to grow and deepen the impact on people served. Goodwill stores re-purpose donated goods and transform them into services for the community through its double impact mission of sustainable fashion and power of work.
Goodwill NYNJ is investing to design stores that provide a safe, clean, convenient, and fun donating and shopping experience tailored to the growing resale market with merchandise free of the environmental impact of fast fashion. In October 2021, the Guilderland Chamber of Commerce recognized the Goodwill store in Guilderland, NY with the "Best Interior Remodel" award
The double impact of Goodwill in 2021 included re-purposing more than 40 million pounds of pre-loved clothing and home goods, saving nearly 59k metric tons of CO2 from being released into the atmosphere and successfully avoiding polluting the environment. Sales of donations at our Goodwill stores in 2021 provided critical funding of our employment services for nearly 10,000 people who are unemployed or underemployed, almost half of them people with disabilities. We collaborate with large and small companies to place people in jobs outside our Goodwill stores in industry-sector jobs at hospitals and health centers, tech and accounting firms, warehousing and grocery stores, and public agencies.
According to Catherine Erdly's Jan. 17, 2022 Forbes article "With a global desire to shop responsibly and sustainably – resale is predicted to be a major player in the retail landscape for 2022… Resale is a major conversation in the fashion industry and one of the fastest growing consumer behaviors. In the US alone, over 33million consumers bought second-hand apparel for the first time in 2020. The resale market is projected to double in the next 5 years, reaching $77billion… Buying second-hand was surging in popularity before the pandemic shook up the retail industry but supply chain issues and tightening household budgets has added to consumers' drive to find resale deals."
"Goodwill is bringing the fun of thrift, the beauty of upcycling, with the meaning of social impact to your community," said Katy Gaul-Stigge, Goodwill NYNJ President and CEO. "The shopping landscape is changing across the country with thrifting and secondhand shopping going 100% mainstream. Goodwill NYNJ has been a sustainable fashion powerhouse for over 107 years and is leading the way to changing the clothing manufacturing cycle to decrease creating new clothes that are then discarded and hurt the environment."
Goodwill NYNJ's retail thrift business includes Goodwill stores, outlets, attended donation centers, e-commerce and textile recyclers to ensure that nothing people donate is wasted.
Property owners interested in discussing business opportunities with Goodwill NYNJ should contact the following real estate brokers. New Jersey: Adam Caplan, Katz & Associates, at 732.619.4357 or AdamCaplan@katzretail.com. Long Island:Melissa Naeder, Cushman & Wakefield, at 631-457-9936 or Melissa.naeder@cushwake.com. Westchester County (NY):Carl Wunderlich, Cushman & Wakefield, at 940-597-4099 or carl.wunderlich@cushwake.com.
Goodwill Industries of Greater New York and Northern New Jersey, Inc. (Goodwill NYNJ) is a 501(c)(3) nonprofit organization that operates retail stores throughout the region powered by donations of clothing and household items. Goodwill NYNJ translates those donations into workforce development services for people with disabilities and those who are unemployed, and job training leading to employment. Annually, Goodwill NYNJ services build better lives for thousands of New York City Metropolitan Area residents and their families. For over 107 years, the agency's mission has been to empower individuals with disabilities and other barriers to employment to gain independence through the power of work. Learn more about Goodwill NYNJ at http://www.goodwillnynj.org; follow us on Twitter: @GoodwillNYNJ; and find us on Facebook or Instagram: GoodwillNYNJ.
###