From L-R: Hyacinth Rose, Yasser Abbady, Frank Anzelmo, from the NYC Department of Sanitation, Goodwill NYNJ President/CEO Katy Gaul-Stigge, and Yvonne O'Connor, GoodTemps.


On Thursday, October 20, 2022, Goodwill Industries of Greater NY and Northern NJ, Inc. marked October, National Disability Employment Awareness Month (NDEAM). We hosted three events to celebrate the many accomplishments of people with disabilities we placed in jobs, our dedicated Goodwill team who support them throughout their careers, and our partners -employers who hired these individuals to create a more diverse, inclusive and equitable workforce.
First, Goodwill NYNJ recognized four individuals with disabilities we placed in jobs, Yasser, Clayton, Sarah, and Jasmine, and their employers: the NYC Department of Sanitation, Stop and Shop, Gristidis, and Magnolia Bakery respectively. Katy Gaul-Stigge, Goodwill NYNJ President/CEO, presented plaques to the employers and gift cards to the program participants.
The Goodwill team has supported these individuals for years or even decades, as long as it takes to help them maintain their jobs. For instance, Sarah came to Goodwill only two years ago, received job-readiness training and thanks to job exploration, including an internship at the Simons Foundation, she landed a job at Gristidis three months ago. In Clayton's case, he has worked at Stop and Shop for over fifteen years in different locations!
In addition, Goodwill NYNJ presented Martha Jackson, Deputy Commissioner, NYC's Mayor's Office for People with Disabilities, the "DISABILITY ADVOCATE EXTRAORDINAIRE" award for her nearly two decades of commitment working with the NYC disabled community. Prior to her current position, Martha directed several programs for individuals with disabilities and US veterans in the more than ten years she work at Goodwill NYNJ.
As a result of the pandemic and what job market experts call "the great reshuffle," employers have been more willing to give candidates with disabilities and other barriers a chance to prove they can do the job. In 2021, Goodwill NYNJ placed 59% more job candidates with disabilities in jobs compared to the previous year. Also last year, we provided services for 10,000 people, half of them individuals with disabilities.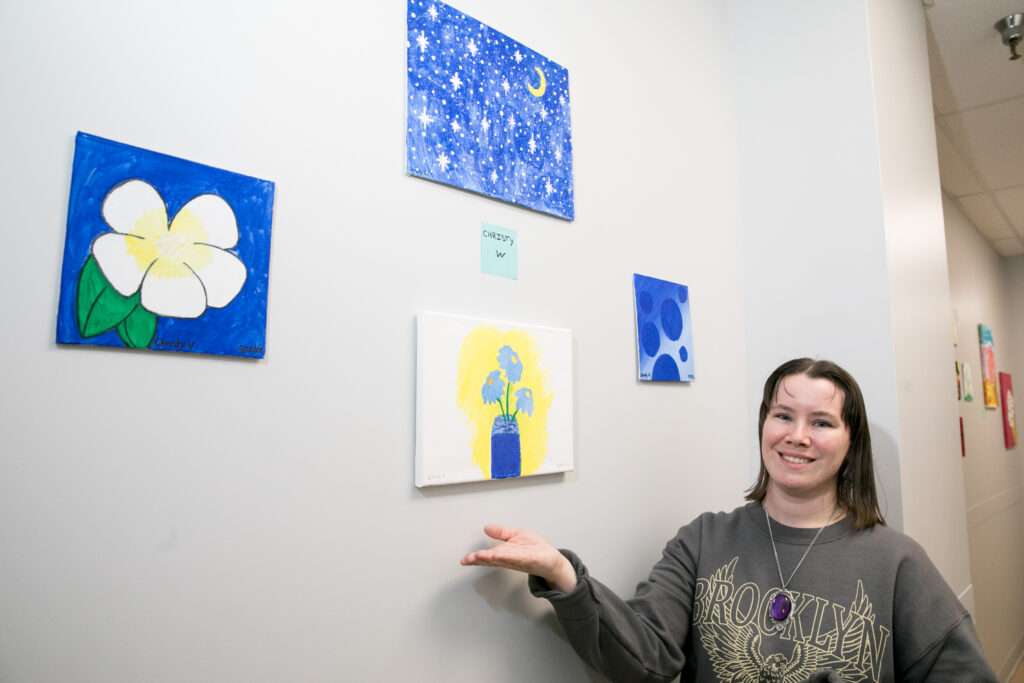 We also held an open house to provide tours and information about our services for people with disabilities for individuals, their families, and care managers. After the award ceremony, we hosted an art show featuring artists with disabilities who have jobs thanks to our employment services, but on
their days off, they attend our Respite Recreational program to socialize with peers. It is hard for individuals with developmental disabilities to find friends. At the program, they learned how to do arts and crafts, paint, and participate in activities like going to parks, museums, street fairs, shopping at the mall, and eating out.
There are approximately one million working-age adults with a disability in NY and nearly 1 in 4 adult New Yorkers have one or more disabilities. In addition, 28% of working age adults with intellectual disabilities have never held a job. That's why people come to Goodwill. They know we can help them get jobs.
Last year, Goodwill NYNJ provided employment and other services for 10,000 people, half of them individuals with disabilities.
If you'd like to tour our programs or your company would like to support our programs to benefit your community, please email development@goodwillny.org
If you are looking for qualified talent, please contact findgoodpeople@goodwillny.org
For more information on how to register to receive our services, email services@goodwillny.org